Front Line Demonstration
With an aim to demonstrate frontline technologies on farmers field,to generate production data and feed back, KVK laid out 453 FLD's on field crops viz., maize, rice, soybean, blackgram, wheat, gram, greengram in 145.6 ha. area on newly released varieties and technologies of different crops during 2015-16. For popularization of vegetables and fruits production, live stock production and fisheries, KVK also laid out 2256 demonstrations on vegetables (chilli, okra, tomato, brinjal, onion, long melon), fruit crops (mango, papaya, guava), livestock (Sirohi goat & buck, green fodder, mineral mixture, backyard poultry, water drinker, milk cane, azolla), fishries, improved farm implements, storage bins, nutri garden and vermicomposting. A brief illustration about these demonstrations are being given as under-
Cereals

Maize: With an aim to demonstrate yield potential of newly released hybrids of maize, 1009 front line demonstrations in 194 ha. were conducted by using hybrids Pratap QPMH-1, DKC-7074 and Bio 9682. The average yield of these hybrids was recorded 46 to 52 q/ha, which was 26.90 to 38.29 per cent higher over local check. Other technologies demonstrated in FLD's were seed treatment, sowing at 60 cm row spacing (in place of 45 cm), recommended seed rate of 25 kg/ha, use of INM, weed management and IPM.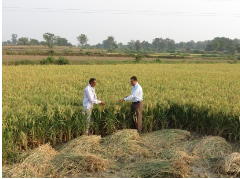 FLD on Rice Pusa Sugandh-5
Presently, 92 per cent farmers have adopted single cross maize hybrids in the operational area of KVK. In case of rabi maize cent per cent farmers adopted hybrids.
Rice: FLDs on rice under NEP were laid out in 5.6 ha area on 28 farmers field during the period under report. Variety P-2511, PRH-10, P- 1612 and Pusa Sugandh-5 recorded an increase of 73 to 87.3 per cent yield over local check. Variety Pusa Sugandh-5 is gaining popularity in the operational area of KVK and farmers are FLD on Rice Pusa Sugandh-5 adopting suggested cultivation practices and technologies especially seed treatment, INM and nursery raising . Farmer's of adopted villages are also producing seed of Pusa Sugandh-5 and providing to farmers of adjoining villages. At present, 60 per cent paddy growers of adopted villages are using this variety and harvesting bumper yield of quality rice grain.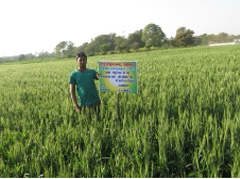 FLD on Wheat Raj-4079
Wheat: KVK introduced newly released thermo- insensitve wheat varieties Raj-4079 & Raj-4120 in the district through 390 FLDs in 108 ha. area. The variety Raj-4079 gave average yield of 38.86 q/ha which was 54.21 per cent higher over local check (variety Lok-1) due to its suitability to climatic condition of Banswara.Varieties Lok-1 and Raj-3077 were grown in large area, but after the introduction of Raj- 4079 in last two-three years, 60-65 % wheat area in the district is being covered under this variety. In addition to this, most of farmers of KVK adopted villages have also started to reduce their wheat seed rate to 150 kg/ha instead of 200-250 kg/ha, adopted balanced fertilization along with application of nitrogen in three splits and top dressing of urea after irrigation instead of nitrogen in two splits and top dressing of urea before irrigation and thereby reduced N loses in wheat cultivation.
Pulses
Blackgram: KVK demonstrated PU-31, GU-1 and PU-1 varieties of blackgram through 50 FLD's in 20 ha area and an increase in yield of 78.12 to 103.13 per cent was recorded. Looking to the performance of FLD on Wheat Raj-4079 PU-31 variety, the area under this variety increased four fold in last two years in
The Adopted Villages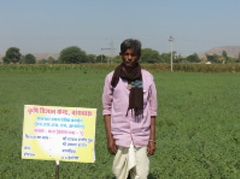 FLD on Gram (PC-1)
Gram : FLDs on gram were laid out in 40 ha area with 100 farmers during the period under report. Varieties GNG-1581, RVG-202 and Pratap Chana-1 along with IPM modules to manage gram pod borer, recorded increase in yield up to 57.45 to 130.77 per cent as compared to farmer's practices. The demonstrated varieties have been spread throughout the district and grown in more than 50 per cent gram area.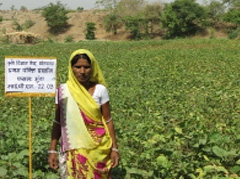 FLD on Greengram (IPM-02- 03)
Greengram : FLDs on greengram were laid out in 20 ha area with 50 farmers during the period under report. Variety IPM-02- 03 along with IPM modules in recorded increase in yield up to 51.03 per cent as compared to farmer's practices. The demonstrated variety have been spread throughout the district and grown in more than 40 per cent greengram area.
Soybean
KVK demonstrated JS 95-60 & JS 93-05 varieties of soybean through 700 FLDs in 300 ha. area and an increase in yield of 40.31 to 48.18 per cent was recorded. Looking to the performance of JS 95-60 & JS 93-05 FLD on Gram (PC-1)FLD on Greengram (IPM-02- 03) varieties, the area under this variety increased in last two years in the adopted villages.
Vegetables and Spices
To enhance income of marginal and small tribal farm families through crop diversification, KVK made special efforts. Besides its own mandate, KVK generated funds from Deptt. of TAD, GoR, NHM, RKVY and NAIP, to introduce vegetable cultivation for higher income and generate additional employment to farm households in the district. In the adopted villages, 270 FLDs in 52 ha area on vegetable crops, viz., chilli, okra, tomato, brinjal, oinion and long melon. were laid out in KVK adopted villages. This intervention changed the socio-economic status of farmers.Farmers earned net income of Rs. 20,000 to 50,000/-just from 0.2 ha land.Earlier they were getting only Rs.4000 to 10000/- from same piece of land.Vegetable cultivation not only enhanced family income but also generated additional employment. Presently in KVK operational area all most more than 45 per cent tribal families adopted vegetable cultivation. The farmers achieved state of art in vegetable cultivation especially in Talwara & Garhi block of the district.
Orchards
Though KVK has limited fund for orchard establishment but funds received under TSP head of CISH, Lukhnow helped in establishment of orchards. During reporting period KVK established 40 orchards of mango, guava and papaya as intercrop in 8 ha area. The centre also established 10 orchards of papaya. In papaya Taiwan (Red Lady-786) was found better due to early flowering (4 months after transplanting), higher yield (80-100 kg fruits/plant), long shelf life (8-10 days) and hermaphrodite nature. Papaya Red Lady-786 has become very popular and spreaded throughout the district and about 60-70 per cent papaya growers have planted this hybrid. Besides this, Kendra also provided 28910 quality planting materials of mango, lime, guava, sapota, aonla, pomegranate and papaya to farmers on cost basis for orchards establishment during 2015-16.
Animal husbandry demonstration
Sirohi goat & buck : As the district is tribal dominated and farmers rear goat for their livelihood but they have non-descript poor yielder goats. With an aim to improve the breed of existing goat, the Kendra provided 11 breeding bucks of Sirohi breed as community input in adopted villages. Presently more than 660 progenies of Sirohi breed are visible in the adopted villages. Besides this, KVK also provided 26 goat units (2 goats + 2 kids) to land less BPL and widows to ensure their livelihood with the financial assistance of a NGO, Pavitraatma, Goika Bariya. One year old male of Sirohi progeny attained average weight of 30 to 32 kg, whereas, the non-descript male attains weight 22 to 25 kg. By sale of each male goat kids farmers earned additional returns worth Rs.2000 to 3000/-.Landless BPL and widow families are earning Rs.8000 to 9000 /-per annum from goat unit.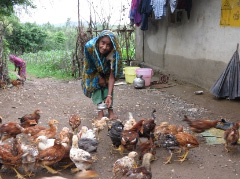 Backyard Poultry : To generate additional income to landless and marginal farmers, KVK established 652 units of Pratapdhan backyard poultry (16+4 birds). Pratapdhan is a recently developed breed of poultry by MPUAT, Udaipur. It is three way cross between Native x Broiler x RIR . It lays 160 eggs per year with broodiness character.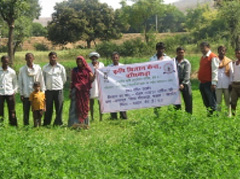 FLD on Berseem (Vardaan)
By this intervention each family earned an additional income of Rs. 9500-10000/- per unit by sale of eggs and cocks. Besides these, 1.0 q mineral mixture, 100 water drinker, 100 milk cane and 735 FLD's of green fodder (berseem, oat and azolla ) were also laid out on farmers fields who are engaged in milk production. These interventions improved animal health as well as increased milk yield by 250 to 450 ml /day/animal.
Fish Culture Activities
The district has good water resources and there is ample scope of fish culture. In NAIP, KVK in collaboration with CIFE, Mumbai eastlibshed a Chinese Circular Fish Hatchery Complex. By this hatchery, centre is Backyard Poultry (Pratapdhan)
FLD on Berseem (Vardaan)
producing about more than 5 crores spawn of Indian Major Carps annually and these spawn are being made available to fish farmers. In addition to this, the centre has also well developed ornamental fish r earing and fish processing unit. A women Self Help Group (SHG) is formed for rearing ornamental fishes in the Banswara city. 20 FRP tanks were made available to SHG for ornamental fish rearing. The SHG is earning about Rs. 2.50 lac annually by this intervation.
During reporting period Kendra also stocked 2 crores fish spawn in 125 ha water bodies and benefited 135 fish farmers. This intervention resulted additional revenue of 35 lac in the KVK operational area and helped in overcoming the malnutrition situation among tribal farm families.
Farm equipment and implements
For increasing input use efficiency and to reduce drudgery in agricultural operations, 250 improved farm implements like iron hand racks, serrated sickles , khurpi, maize sheller, etc. were made available to 250 farm families. Further, farmers are also using bullock and tractor drawn farm implements viz., rotavator, disc harrow, repear, seed- cum- ferti drills etc. placed at Rural Technology Centres on custom hiring. In custom hiring a token amount of money is taken from farmers for wear and tear for these impliments. By the use of improved farm implements and equipment 25-30% improvement in the work efficiency has been reported.
Creation of storage potentional
Storage potential of 400 q grain / seed has been created in the adopted villages by providing 200 G.I storage bins of 2 q capacity. This intervention saved 10-15 per cent grain/seed from storage pest and spoilage due to moisture. This intervention is saving approx. 400 q grain/seeds per annum worth Rs. 8.8 lac.
Water Management
In the adopted villages 9900 meters of quick connect HDPE pipes were made available to 150 farmers for efficient water management and increasing the irriagated area. With this intervention 25.0 ha more area brought under various crops including 4.0 ha area of vegetables thereby increasing cropping intensity.
Nutri-Garden
164 families were provided with vegetable seeds of 5-6 crops for nutri- garden for improving nutrition. Besides, home consumption each families earned Rs. 1200 to 1500/- per annum by sale of vegetables from Nutri-garden.